Hopefully, you already have seen that Temkin Group has called 2018, The Year of Humanity. We've been focused on finding ways to help people increase humanity as individuals, as CX professionals, and as a collective community.
In our latest survey of CX professionals, we asked respondents to estimate how often employees in their organizations demonstrate three traits of humanity:
Embrace diversity. Recognize our differences and find ways to treat people as individuals.
Extend compassion. Tune into the condition of the people around us and care about their well-being.
Express appreciation. Proactively look for and acknowledge the positive aspects of the world around us.
We then segmented the responses based on how they rated their company's customer experience compared with other companies in their industry. This chart shows the data…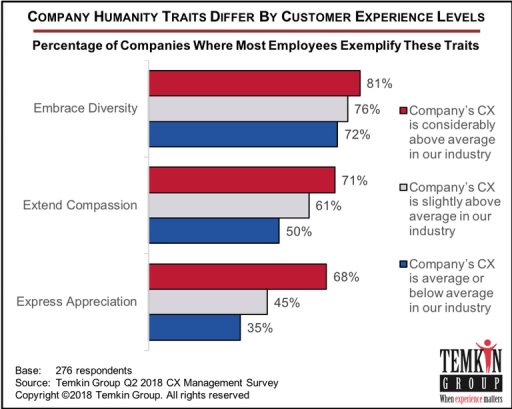 As you can see in the chart above:
When it comes to all three humanity behaviors, companies with better CX have more employees demonstrating those behaviors.
The largest difference is with "Express Appreciation," where there's a 33-point gap between CX leaders and CX laggards.
What does this data mean? It demonstrates that customer experience leaders have a different culture than other companies. They tend to attract people who demonstrate these positive human behaviors and the environment further nurtures these behaviors.
Hopefully, you are motivated to incorporate these behaviors into more of your activities and to encourage them in the people around you. Who knows… maybe you'll even improve your organization's customer experience.
The bottom line: All of us can (and should) improve humanity!
This blog post was originally published by Temkin Group prior to its acquisition by Qualtrics in October 2018.