It turns out that having a customer focus isn't only good for customers, but it's also good for employees and financial results.
We asked more than 5,000 U.S. employees to identify what they felt was the top priority for their senior executives. We also asked them about their work efforts and the financial performance of their organization. As you can see in the chart below:
When senior executives care the most about customers' needs, employees try their hardest and the companies have the best financial results.
The next best place for senior executives to focus is on fulfilling the organizations mission.
When senior executives are mostly focused on generating more profits, they end up with the worst employee and financial performance.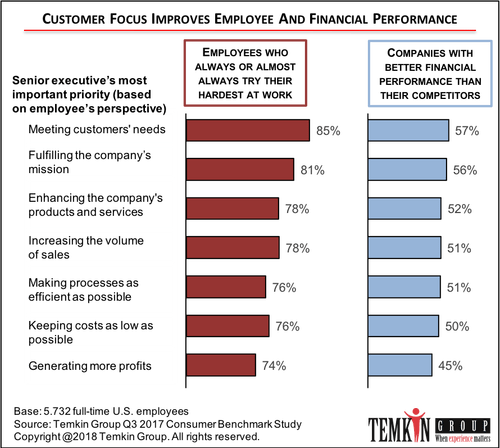 The bottom line: Focus on your customers, not on your profits.
This blog post was originally published by Temkin Group prior to its acquisition by Qualtrics in October 2018.