We are very excited to announce that Qualtrics XM Institute is launching XM Masters professional development training. XM Masters is a premier professional development training for Experience Management (XM) professionals. Over twelve weeks, a small global cohort of XM professionals will have the opportunity to develop advanced skills and knowledge under the guidance and coaching of XM Institute.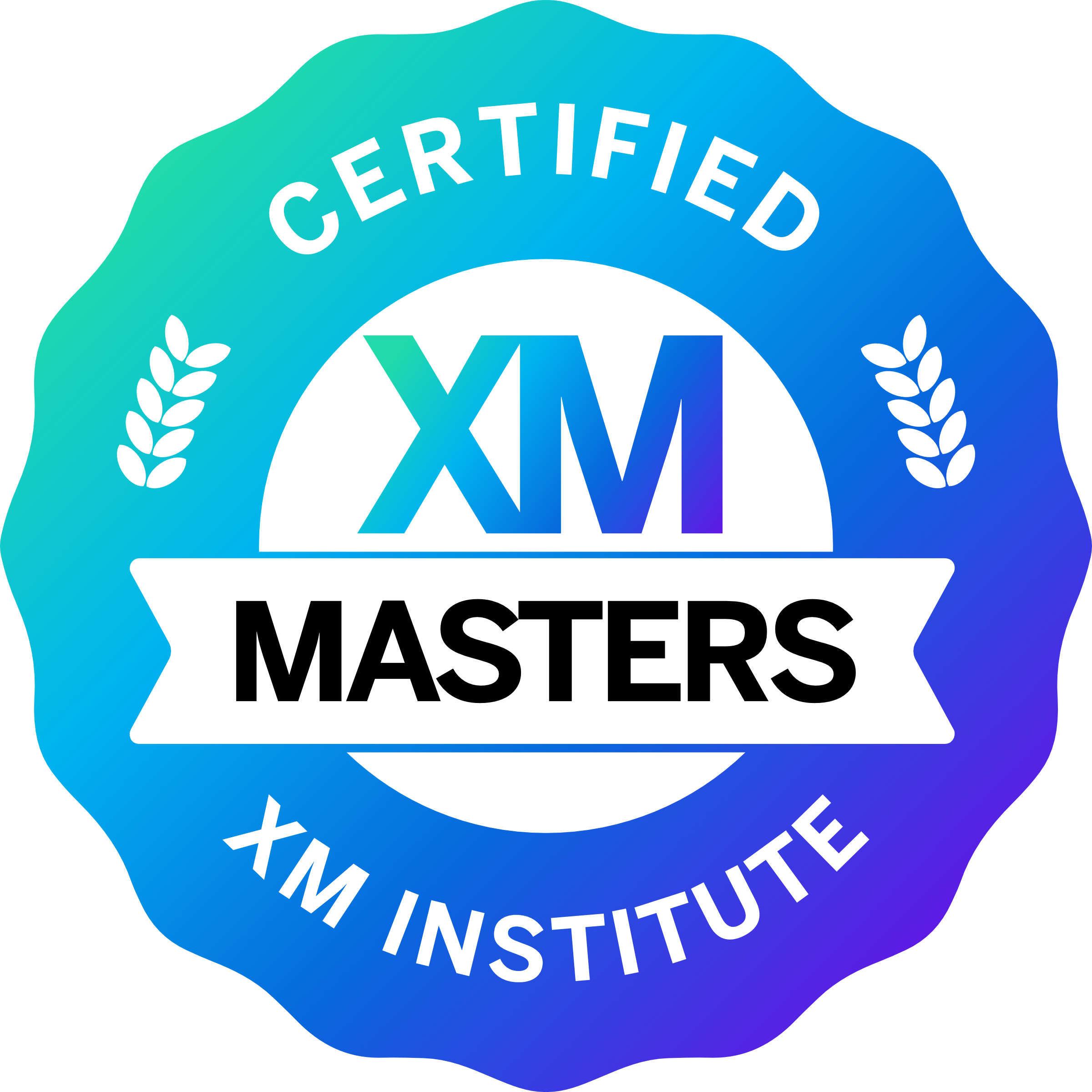 Building on the years of deep expertise and thought leadership developed by Qualtrics XM Institute, XM Masters is the world's first professional development training that focuses specifically on professional experience and expertise in the discipline of Experience Management.
Ready To Get Started? Register Today!
Why we created XM Masters
The XM Masters program was created because we really care about the XM profession! 
XM Institute's mission is to build a thriving global community of XM professionals who are empowered and inspired to radically improve their organization's ability to deliver breakthrough experiences. XM Masters is the next evolution of bringing this mission to life. 
We are keenly aware that XM is a rapidly growing area of strategic focus in organizations around the world, which means there is an increasing demand for XM professionals who can successfully define, lead, and deliver high impact XM programs. But with the rapid innovation happening in XM and the accelerating pace of change for our organizations, many XM professionals are left searching for the enablement they need to rise to this challenge.
As the world's leading Experience Management think tank, and a faculty of industry experts with executive training skills, Qualtrics XM institute is in a unique position to fill this gap.
We set out to deliver an in-depth program that not only develops the advanced skills and practices that XM professionals need to transform experience-centric organizations, but also creates an international community of XM professionals that connect and grow their careers together.   
Who XM Masters is designed for
XM Masters is not a beginner's course. It is designed for mid- to senior-level professionals seeking to build XM specialization. For example,
Customer experience and employee experience professionals who lead programs and seek to advance their expertise

Strategic consultants expanding their XM skills and toolkits

Executives who are transforming experience-centric organizations

Tenured professionals, in professions such as HR or market research, who are pivoting their careers towards Experience Management.
The Curriculum: Personalized learning pathways
Across twelve weeks, XM Professionals will progress through six learning modules that integrate Experience Management theory and practice. This is done through in-person workshops and virtual learning pathways.
The XM Masters program provides a strong, broad understanding of XM as well as applied practitioner skills to deepen expertise in either customer or employee experience.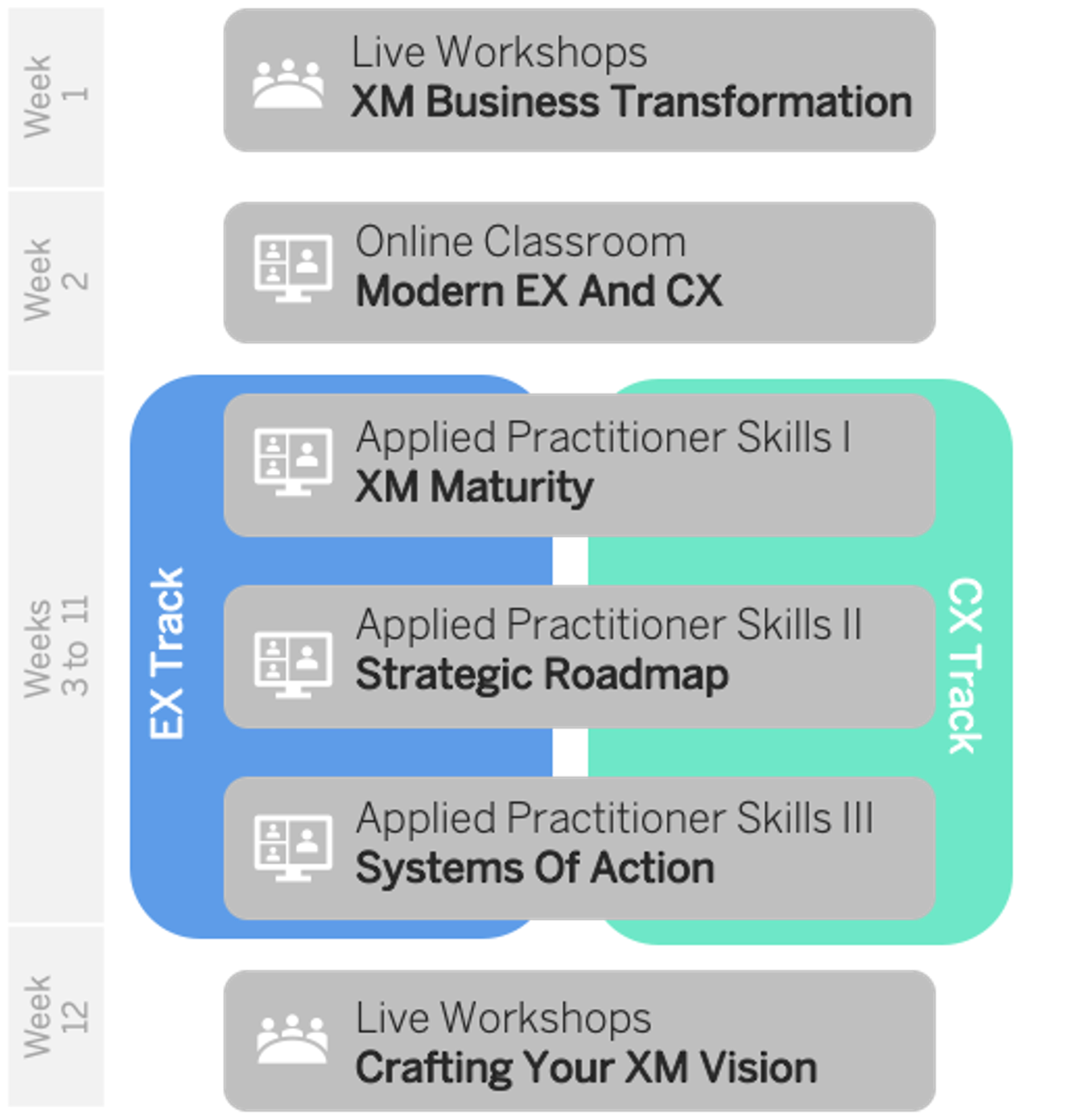 Each participant will work directly with XM Institute faculty to apply strategic toolkits and professional practices in their organization or XM programs. Each week there are opportunities to collaborate, share, and get feedback from peers across the globe as each person puts learning into action and masters their role as a change agent.
What's involved with completing XM Masters 
To receive the XM Masters professional certificate, participants must attend a minimum of 80% of required coursework and complete a final project. The total time commitment will differ for each person, averaging between 6 to 8 hours per week. Across the twelve weeks, this is a combination of the following:
2 x two-day in-person workshops in a single location

16 hours of live, online learning activities

Up to 25 hours of personal study and project completion

15+ hours of optional virtual group study, collaboration, or office hours with XM Institute faculty
For more details on the course structure and student expectations, we welcome you to look at the student handbook.
Why Complete XM Masters
The team at XM Institute are focused on ensuring every XM Masters participant gets maximum value from their investment in the program, such as: 
Quickly progress your skill and expertise development to increase your professional impact 

Earn distinction as the holder of an XM Masters professional certificate from Qualtrics XM Institute

Learn with, and be coached by, leading experts from XM Institute

Acquire a comprehensive toolkit and set of resources from XM Institute, apply them, and receive feedback during the program

Through limited group sizes, create authentic connections with a global network of XM professionals and propel your personal development 
Making the case for your organization
We expect that the organizations that have their team members complete XM Masters will derive value quickly by:
Developing industry-leading strategic skills that effectively translate an XM vision into practice

Immediately applying established strategic consulting tools and models under the coaching and guidance of XM Institute to create customized resources that accelerate the impact of your XM programs 

Bringing XM Institute content and frameworks into your organization's toolkit, for continuous use by XM professionals in your teams

Fast-tracking your internal team's capabilities by leveraging world-leading consulting practices that have been proven to deliver results for organizations across the globe
Ready To Get Started? Register Today!
Answers to Anticipated Questions
How much does the XM Masters program cost? (and are there any discounts)
The tuition cost is $6,600 USD. This can be paid online with a credit card or paid via invoice.  Discount fees are available for the inaugural cohort of students in 2023.
How is XM Masters different from other professional certifications or masters degrees?
We set out to create something unique with XM Masters. Some professional certifications can be obtained via online self-paced study. The feedback we have received is that these courses do well at sharing knowledge but do very little to develop the actual skills that professionals need to be successful in their roles. On the other end of the spectrum, Masters degrees build professional skills but are a huge time and financial commitment – and very few truly prepare students to deliver XM programs in modern organizations. XM Masters is designed to be somewhere in between – think of it as similar to a single Executive MBA subject, providing tailored and developmentally focused learning opportunities that online self-paced courses do not offer.  
I am a Qualtrics customer – can I enroll for free?
As you can imagine, the time and resource investment required to deliver XM Masters and the value derived from this program is substantial, so there is a tuition cost associated. This is our premium training offering, but you can continue to access all of the XM Institute content at xminstitute.com, where you will find resources, events and a community, all free of charge.
Who can enroll?
XM Masters is open to anyone. Both Qualtrics clients and non-clients may apply. To ensure that students meet the minimum criteria necessary to gain the most value from the XM Masters curriculum, there are two prerequisites for enrollment.
Prerequisite 1: Professional Experience. Five or more years of Experience Management experience (as a practitioner or consultant) in one or more core experience areas (customer, employee, brand, or product), with primary responsibilities that include delivery or management of XM programs. For example:
Leading a transformation effort to architect and sustain an Experience Management program

Tracking and ensuring XM efforts achieve well-defined business objectives using a clear set of metrics

Activating an organization's employees for change to achieve desired results

Collecting appropriate experience and operational data and provide actionable insights across the organization

Establishing mechanisms for an organization to prioritize and drive improvements based on insights

Identifying and creating experiences that differentiate an organization
Prerequisite 2: Access to an XM Program.  Access to current or past experience management programs, which will be used in each of the applied practitioner skills modules. In these modules, participants will apply the XM tools and practices with real organization use cases provided by them. To complete the projects and get the most value from the XM Masters program, each participant should be working with XM programs on which these practitioner skills can be applied. 
Where are the in-person workshops held?
In 2023, we will be hosting workshops in the Qualtrics Dublin, Seattle, and Sydney offices. This will expand to more locations in 2024, and we will also open up opportunities for organizations to host their own cohort at a location of their choosing.
What exactly do people learn during XM Masters?
Take a look at our Student Handbook for detailed information about the learning methods and the program of study.